Do you want a more visual form of goal setting? Do you want to see a picture of your dream life? Then it's time to create a a vision board.
This article will walk you through the process of creating a vision board digitally and physically. You can use it to visualise your dream life and bring you closer to your goals.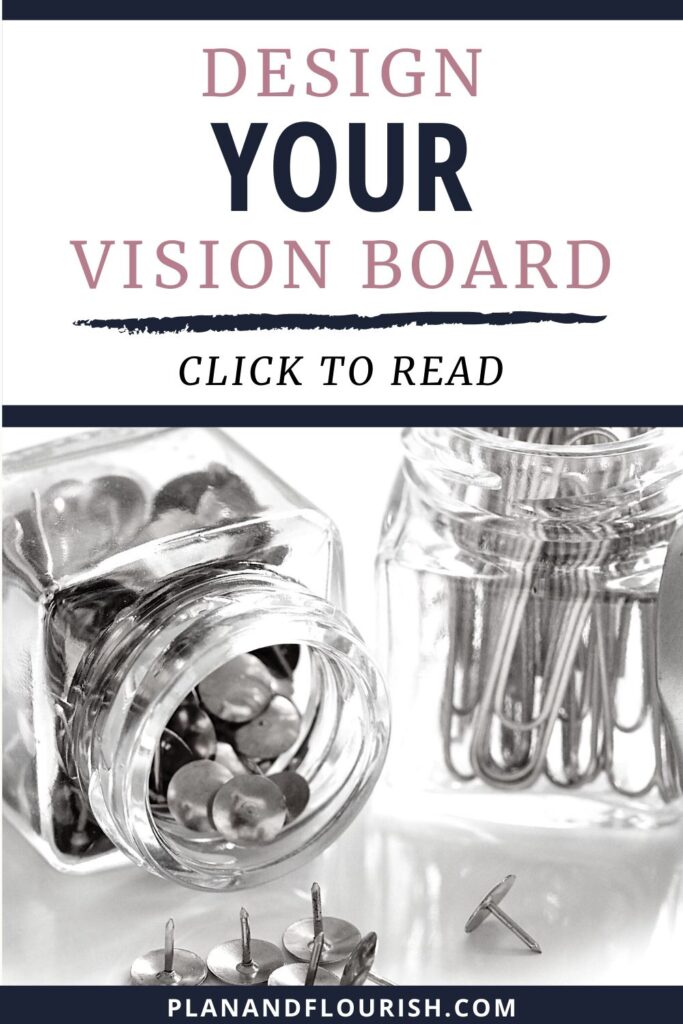 What Is The Purpose Of A Vision Board?
A vision board lets you see your goals, dreams and desires all in one place. It's a visual representation of your dream life.
Why You Need To Create A Vision Board
Use a vision board along with goal setting to make it more effective for you to reach your goals. This is because you are combining the power of visualisation and a breakdown of the steps it will take to reach your goal.
Other Benefits Include:
A visual picture of your dream life
A reference when you are visualising
What Supplies Do You Need For A Vision Board?
Minimal supplies are need to create your dream life board. The supplies do vary depending on whether you want to design a digital or physical board.
You can create digital vision boards or physical vision boards. Digital boards are great to create in a design programme (like Canva) or Pinterest. Physical boards are best made using a page in your planner or a corkboard.
Digital Vision Board
These require less supplies and can be quicker to create and edit. The easiest method for creating a digital version is to use Pinterest. Although, there are other options listed below.
Laptop or computer
Google Images
Pinterest
PowerPoint or Keynote
Canva or Photoshop
Pro's & Con's
Pro's

Easily add and takeaway images
Quick to create

Con's

Need to turn on your computer or phone to see it
Can't add images from magazines
Physical Vision Board
A physical or paper vision board may need a few more supplies than a digital version but they're also fantastic as you can hold them physically. There are 2 best places to create a physical board, your planner or on a corkboard.
Paper
Printer
Laptop or computer
Google Images
Magazines
Pens
Glue
Scissors
Corkboard & pins or Planner
Pro's & Con's
Pro's

More likely to see it daily
Use images from magazines

Con's

Hard to change images if they're glued on
More labour intensive as you need to print off images or cut them out of magazines
How Do You Create A Vision Board?
In 6 simple steps you will produce your vision board and be able to use it to achieve your goals and dreams.
Step 1: Get Clear On Your Desires & Goals
Becoming clear on what you want out of life is key to reaching it. Below are questions to determine your dreams for different areas of your life. However, for more advice on creating goals, read SMART goal setting or learn 4 different goal setting methods.
How do you want to spend your day?
Where do you want to travel to?
What do you want to eat?
What classes or courses do you want to join?
How do you want to feel?
What quotes inspire you?
How much money do you want to make?
What work do you want to be doing?
Who do you want to meet?
What hobbies do you want to do?
Are there are charities you want to give to?
What pets do you want to own?
Where do you want to live?
What car do you want to own?
What type of relationship do you want to be in?
Step 2: Find Images, Words, & Quotes
When choosing your images, pick the ones that invoke positive emotions. Also, make your images very specific to your desires (e.g. if you want to get fit with running, have an image of running rather than with weights).
Google Images
Magazines
Pinterest
Step 3: Design Your Board
Designing your board is extremely simple. Within 2 steps you will have a vision board to look at that reflects your dreams and desires.
Digitally
Choose your software
Compile your images
Physically
Print off your images
Add them to your planner or corkboard
Step 4: Place It Where You'll See It
By placing your vision board where you'll see it, it'll remind you of your dreams As a result, it will act as a source of motivation for you to continue taking action towards it.
Create it in a planner or journal you look at daily or weekly
Print it off and stick it in a planner or journal you look at often
Put your corkboard above your desk or in your room
Make a digital board the same size as your computer or laptop screen and set it as your background
Make a mini board the size of your phone's screen and set it as your lock screen
Step 5: Make A Start Now List
A start now list is a list of all the things you can do now to start working towards your vision. It's similar to creating a goal action plan which you can read more about here. There are multiple areas you can start working on immediately.
Actions
Behaviours
Decisions
Feelings
Habits
Thoughts
Step 6: Review It
Every month check in with your board and see if your desires and goals have changed. If you feel like your board no longer reflects what you want, recreate it.
To Conclude
Vision boards are so easy to create and they're an amazing visual representation of your dreams and desires. So, follow the 6 easy steps above to create one today and bring yourself closer to your goals.