Do you ever feel like there's not enough time? Do you have all these tasks to complete and no time to do any of them? Do the words time management feel like a nightmare?
In that case, you're in the right place. These are common struggles but it doesn't have to be like that. There are many ways to improve your time management, all you need are the strategies to do so. Read on to find out how to learn and apply the strategies.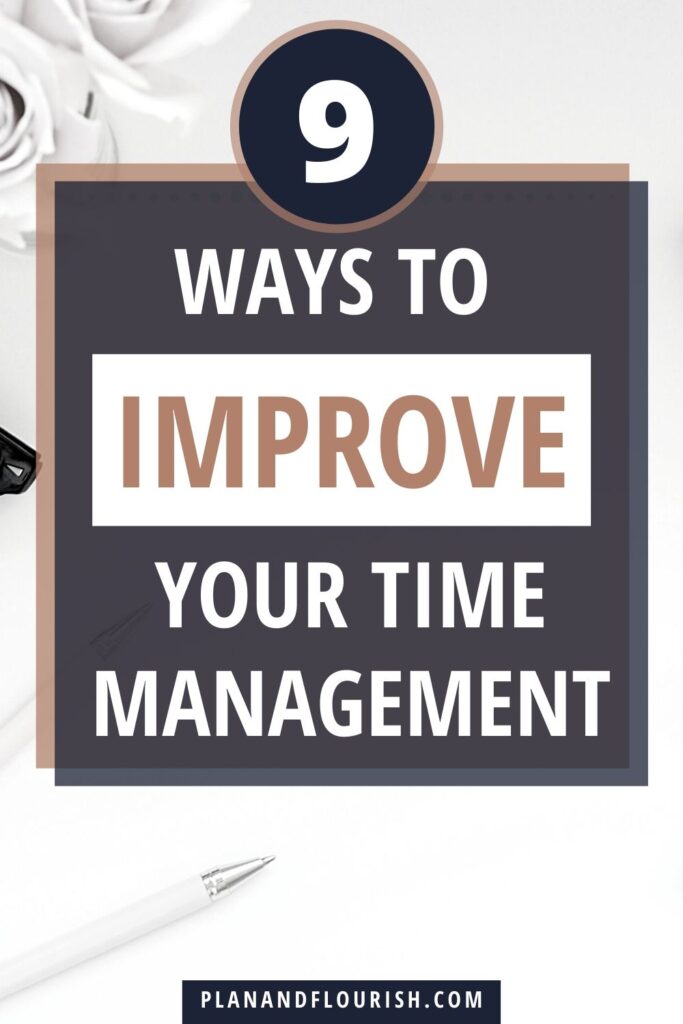 What Are Time Management Skills?
These skills allow you to plan and organise the amount of time you spend on activities. Using them will lead to increased efficiency and productivity by enabling you to complete more in less time.
There are multiple time management skills you can use. In this post, you're going to get a break down of the top 9. These will help you improve your time management in simple steps that you can implement today.
Goal Setting
Goal setting is a huge key to time management. By knowing where you want to be, you can decide where to spend your time. Knowing who you want to be, what goals you want to achieve and what lifestyle you want to live allows you to determine what gets the most of your time.
With the common SMART goal setting method, you'll be able to tell when you've hit your goals and it'll make it easier to create an action plan. For a more in-depth guide to creating SMART goals read my other article.
Planning For Time Management
Planning your months, weeks, and days will help you to work towards your big goals and help you to focus on your priorities. Also, by planning your days, you'll gain an overall picture of where you're spending your time.
How To Plan
Choose your most important task (MIT) for each day
Put any appointments and events
Write your to-do's in your planner
Add in your mini goals, meals or habits (optional)
A more detailed article on planning your week is available on my site. If you want to start planning your week today, download your free weekly planner now.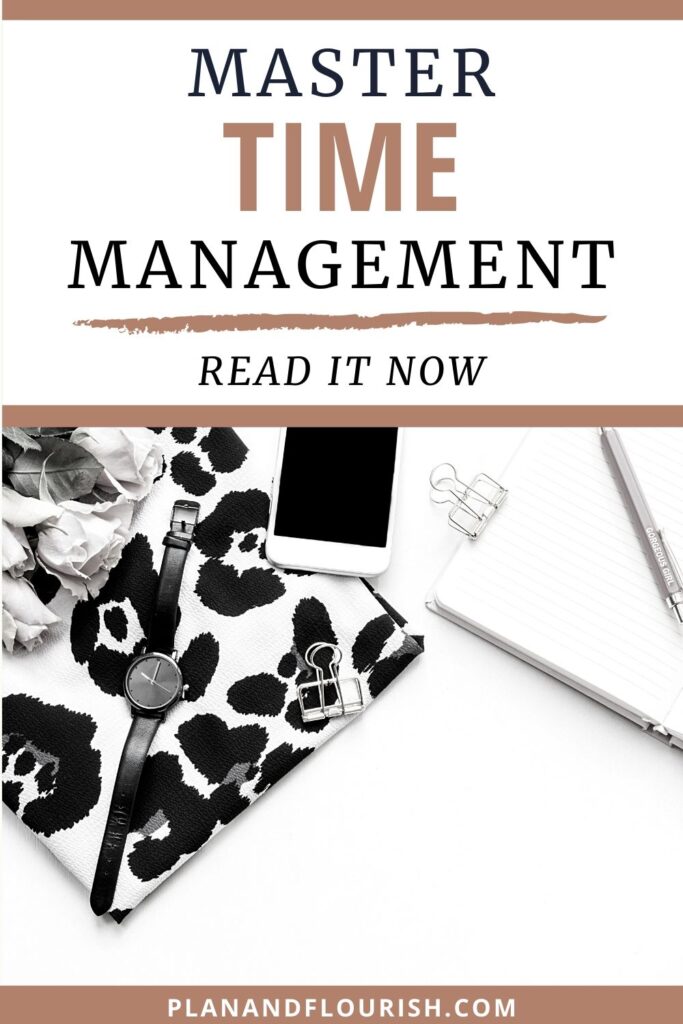 Prioritising
Prioritising is about doing your most important tasks (MIT) first. By doing these tasks first, it ensures you're continually moving forwards and provides momentum to tackle the rest of your to-do list.
If it's your job to eat a frog, it's best to do it first thing in the morning. And if it's your job to eat two frogs, it's best to eat the biggest one first.

Mark Twain
Single MIT
Pick 1 task that must be completed and focus on it until it's finished then move on to other tasks on your to-do list. Ask 'If you could only achieve 1 thing today, what would it be?'
Top 3 MIT
Choose your top 3 tasks that need accomplishing today and focus on getting them done 1 at a time.
Eisenhower Matrix
The Eisenhower matrix divides your tasks into 4 categories or quadrants. You want to be focusing on tasks in the not urgent but important category and avoiding tasks in the not urgent or important category.
Urgent & important

Tasks that need to be completed today or tomorrow
Often related to someone else's goals

Not urgent but important

Tasks that need to be done at some point
Schedule these tasks
Often involve working towards your goals

Urgent but not important

Tasks that you can delegate or automate

Not urgent or important
To read more about organising your to-do lists, read this article on prioritising your tasks.
Deadlines
Adding deadlines to projects and tasks gives you focus and something to work towards. Without deadlines, tasks and projects stretch on and fill up your time. So, they're a fantastic time management skill to learn.
They transform your mindset from 'I'll do it later' to 'I'll do it now.' Giving yourself deadlines for different tasks and projects will allow you to see how long they actually take and help you to create more accurate estimates.
How To Create Deadlines
The 3 simple steps to creating deadlines are detailed below. With the reason of adding extra time onto your estimate being that tasks often take longer than we expect.
Choose what you want to accomplish
Estimate how long it will take for you to complete it
Now add half the amount of time again
Self-Discipline
Self-discipline goes alongside all of the above strategies. If you set a deadline, create a goal, or plan to complete a task, you need to use self-discipline to follow through on your intention and complete it.
Start small and use rewards to encourage you to develop more self-discipline. The easiest way to start is to create a small habit to complete daily. For example, reading 1 page of a book or waking up 15 minutes earlier. As you find your discipline improving, you can increase the task.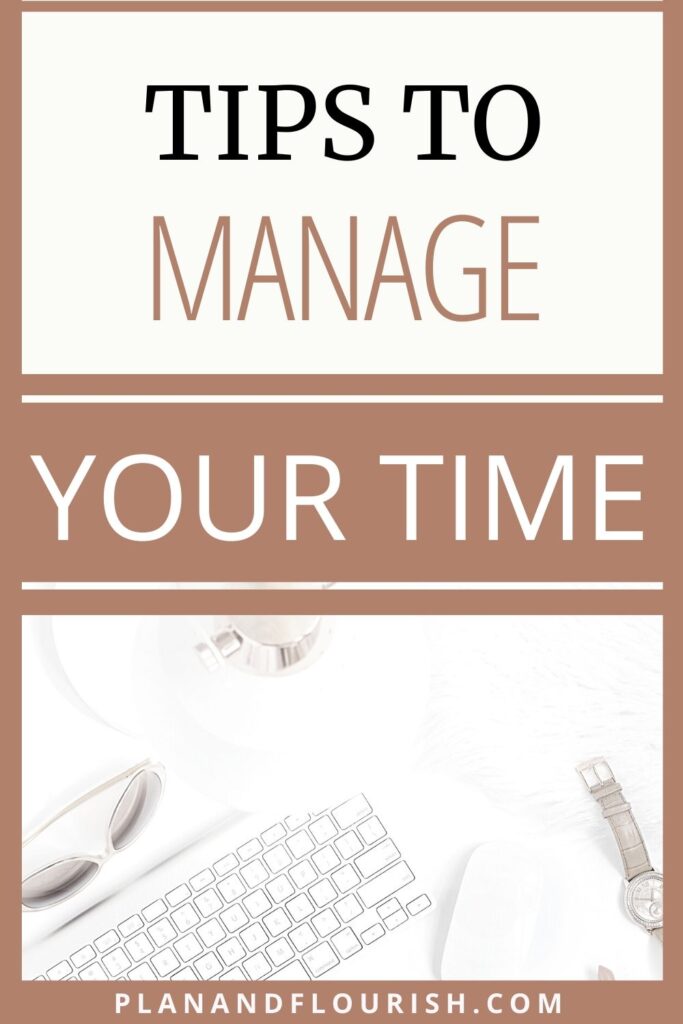 Organise Your Space
When your physical space is organised, it can help you focus because your mind isn't being distracted by the clutter. It also reduces the amount of time you spend trying to find things because everything has its place. This applies to your phone and laptop with file organisation.
Digital Organisation
Organise your files into folders
Organise your emails using labels and filters. Delete old emails and unsubscribe from newsletters if you haven't opened the last 3-4 that came in
Physical Organisation
Keep similar items together (e.g. all pens in one place)
Keep your desk clear except from what you're working on
Say No
Learning to say no is a useful time management tool. Not only is it a form of prioritising, it grows your confidence in going after your dream life by making decisions that are right for you.
When you say no because your workload is too much or the decision doesn't align with how you want to live your life, you're creating a life for yourself and not for somebody else. If an offer doesn't align with your goals and priorities or you don't want to do it, you have 2 options to handle it.
Immediately say 'No, thank you.'
Or tell them 'I'll have to get back to you once I've checked my schedule.' Then make sure to get back to them saying 'Thank you for the offer but no.'
Take Breaks
Giving yourself breaks is a quick and easy time management technique you can start today. Taking breaks help you to have a higher level of focus as your brain has a chance to rest. Without taking a break, your tasks just blur together, and you get tired as your brain hasn't had the opportunity to relax.
Having lunch breaks may allow you to be more focused in the afternoon as you've taken a break and you're ready to come back to your work with a fresh perspective. Have you ever been really stuck on a task, taken a break from it and then when you go back it's easy to solve? That's the benefit of breaks.
Breaks When Working
If you use the pomodoro technique, you'll get breaks every 25 minutes. (25 minutes work, 5 minutes break, 25 minutes work, 5 minutes break, 25 minutes work, 5 minutes break, 25 minutes work, 15 minutes break).
Otherwise, I would recommend factoring in breaks every 90 minutes, when you feel like you need to take a step back or when you swap the type of work you're doing.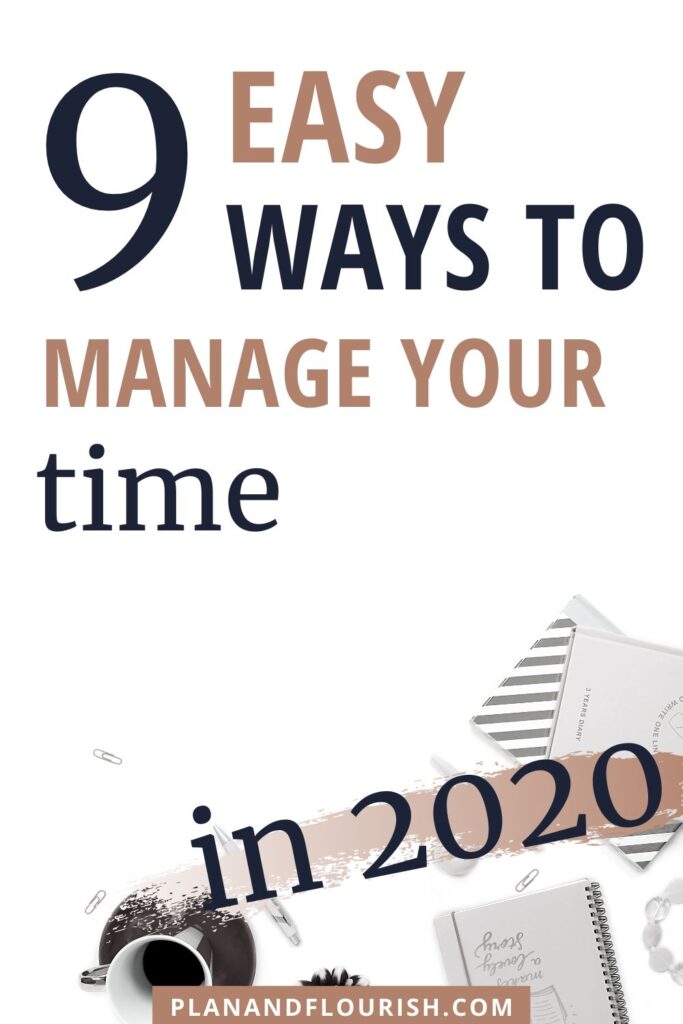 Mindset
If you feel down your time will seem to disappear and your tasks will sit unfinished. This is because negative thoughts and comparing yourself to others can make you feel demoralised and like you aren't capable. As a result, you may not work on the tasks or not complete them.
What will work is to cultivate a positive, can-do mindset. One of the best ways to do this is to surround yourself with people who have a positive mindset. This doesn't have to be in-person, it can be online or in books.
Methods To Develop A Positive Mindset
Read biographies, business and personal development books
Watch YouTube videos
Listen to podcasts
Listen to audiobooks
Read blog posts
Join in-person or online groups with like-minded women
In Summary
The above time management methods can organise how you spend your time. Provided that you follow them and apply them to your life, they will transform your approach to productivity. Most importantly, they will empower you to create your dream lifestyle.
For additional support, head over to the resources page to download free planner inserts that will improve how you manage your time.